Day 8 - Karen had friends that owned Dancing Eagles, a B&B in Seldovia that we were going to visit for the next two days. There are only two ways to get to Seldovia, by air or by water ferry. We chose the scenic 1 ½ hour ferry ride down the bay to get there. We spent our day in Seldovia walking about the downtown area and also checking out their local beach. We also rented bikes and rode out of town along a dirt road that passed by large thickets of wild blueberry bushes. The bushes were calling out our names begging us to pick them, so we obliged the bushes and gorged ourselves on fresh, Alaska, wild blueberries.

Here's a wide angle shot of the Seldovia boat harbor during low tide. This is where the local ferry services drop you off. The state marine ferry has its own special dock further to the right.



This is the Seldovia Slough which runs thru the backside of the town.
You can see the town's historic boardwalk and two of the town's B&B's from here.
Click on the image for a larger view (112k)

---
Day 9 - After a slow leisurely morning and breakfast, we went to the local airport and arranged a flight back in a small charter plane. We paid extra and the pilot went out of his way to give us a scenic flightseeing ride home. The best part was flying over Kachemak Bay State Park where we had been backpacking just a few days ago. We saw Emerald and Grewingk Glacier Lakes. We spent the rest of the day driving north towards Seward to Stoney Creek Inn, another B&B owned by another set of Karen's friends. (I'd swear that woman knows every man, woman, and child in Alaska!)

An aerial view of Emerald Lake.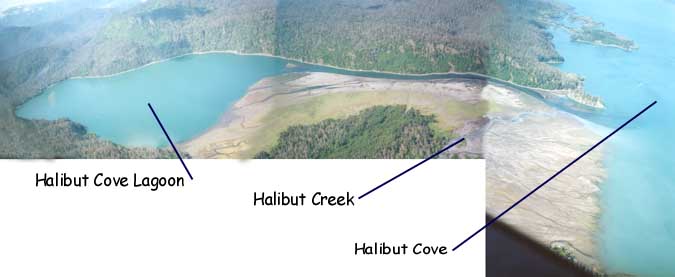 This is an aerial view of Halibut Cove Lagoon and the exit delta of Halibut Creek.