For our backpack trip this summer we decided on the 4 Pass Loop located in the Snowmass-Maroon Bells Wilderness area near Aspen, Colorado. The loop was a total of about 28 miles.
We started at the West Maroon Lake Trailhead and hiked about 1.7 miles to Crater Lake. At this point you have to make the decision as to whether to do the loop clockwise or counterclockwise. We chose to go clockwise. I highlighted the route we took in red on the map below. The red stars indicate the approximate location of our campsites along the way.
The basic itinerary was:
- Day 1: We do an easy 4.4 miles up West Maroon Creek.

- Day 2: We hike 7.2 miles up and over West Maroon Pass and Frigid Air Pass and camp in Fravert Basin.

- Day 3: We cover 7.5 miles going down Fravert Basin, then up and over Trail Rider Pass, and then down to Snowmass Lake for our next campsite.

- Day 4: A layover day at Snowmass Lake. We were originally going to climb Snowmass Mountain but problems with the altitude and Dave's heel blister put the cabosh on that idea.

- Day 5: We hike 8.9 miles over Buckskin Pass, then down to Crater Lake and then to the West Maroon trailhead.
After we come out of the wilderness, we still had a few days left in the week so we did some touristy dayhiking trips.
Here's the map of our backpack with the trail highlighted in red;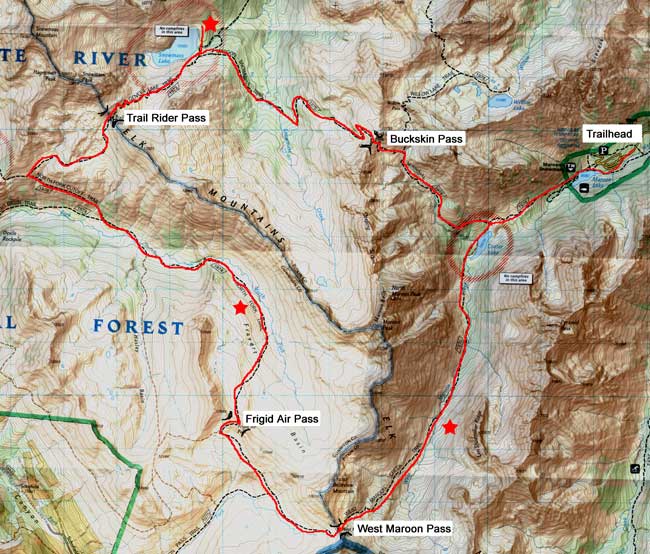 Here's a satellite photo of the area we covered in the Snowmass-Maroon Bells Wilderness area. Again the approximate trail is highlighted in red. The photo is courtesy of "Google Earth".