Day 8) Sat, Drive to Gem Peak Lookout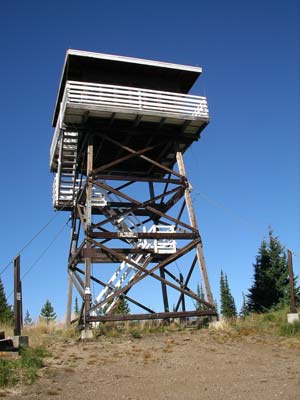 This was another day of long driving. We had to drive about 205 miles to the northwest to get to our first firetower rental near the town of Trout Creek. We stopped off in Missoula to do some food shopping (wanted to make sure we had plenty of food for the next four days), eat lunch, and buy some more digital film at Staples (Diane was running low).
Finding the Gem Peak fire tower was easy. Although it was a 25 mile drive along back woods gravel roads, there were plenty of signs at all the intersections. This was also unfortunate in that it made it a lot easier for every Tom, Dick and Harry to also find the fire tower. Also the access road was not gated and the tower was not locked. This meant that we had visitors to the tower and any hour of the day or night. People would drive up and walk up to the catwalk and expect to walk around, irregardless of the fact that you were renting the tower. This was the worst fire tower that we've rented from the point of view of privacy. The interior of the tower cabin was in the worst shape of any other tower. With so many day people coming up and accessing the tower, there had been a lot of use and abuse.
Other than the lack of any privacy, the view was very good. We still managed to enjoy our 2 day stay. We were also glad to leave and move on afterwards.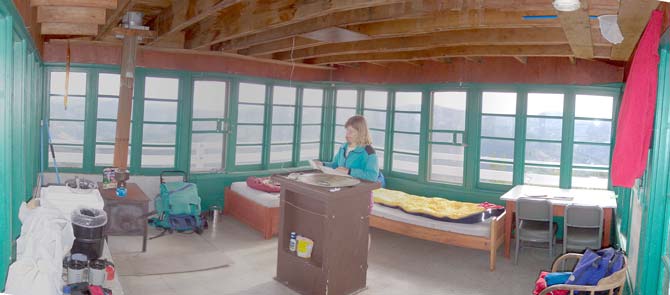 The interior of Gem Peak Lookout tower.
| | |
| --- | --- |
| Cooking breakfast in Gem Peak tower | Eating supper in Gem Peak tower. |
Day 9) Sun, Dayhike to Eighty Peak and Idaho Point
Fortunately there was a trap door on the catwalk that we could lock with the padlock that we had brought with us. That meant that we could go out and explore the local area and leave our gear in the tower. We drove over to nearby Idaho Point. At least I drove as far as I dared on the rocky road with our small, low-clearance, rental car. Eventually I parked the car in a small clearing and we hiked the remaining mile or so to the peak. The view was fabulous! We had a great 360 degree view. We could see westward far into Idaho since were essentially on the Montana-Idaho border. From Idaho Point we hiked the short ½ mile distance over to 80 Peak were we got another great view, predominately to the east. We could easily see our firetower off in the distance. We hiked back to the car and returned to the tower for the rest of the day.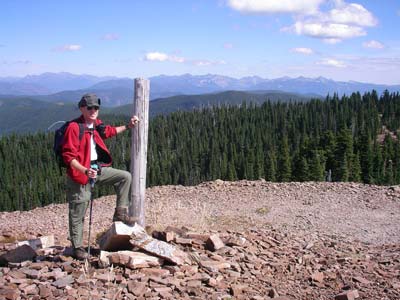 Here I am at the peak of Idaho Point. You got a 360 degree view from here. Looking to the west, you could easily see over into Idaho, you're basically right on the border between the two states.