We woke up early to find the ground covered with about 1/2 to 1 inch of wet snow on the ground. It wasn't raining but it was very misty. We quickly took down the tent and rain fly and packed up our backpacks. We inhaled some granola bars for breakfast and hit the trail early. We were in a hurry to get out.
After 3 miles, we arrived at the dreaded stream crossing. The current was moving swiftly, the water was freezing cold and knee deep, and the streambed was slippery rocks. All like the guide book said. We took it slow and easy, crossing together with our arms interlocked for better support. We made it across safely.
From there it was another 3.8 miles to Eklund Lake. A slow steady gradual uphill walk. Once we reached Eklund Lake it was only 5.3 more miles back to the trailhead. That last 5.3 miles was gradually downhill but it seemed to take for ever. We were getting very tired and couldn't wait to get out to a hot shower and the pizza I had dreamed about last night. We had just covered a little over 12 miles.
Once back out at the trailhead, we drove into Pinedale, found a motel with a hot shower and had that long awaited pizza.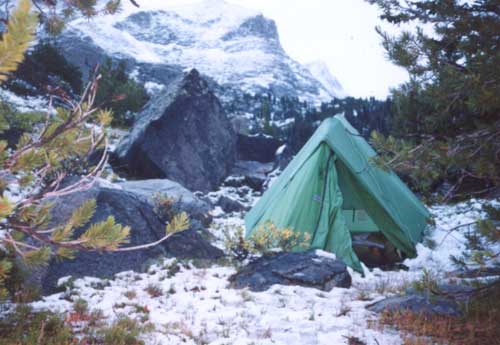 This is the view that greeted us in the morning. There was about an inch
of heavy, wet snow on the ground.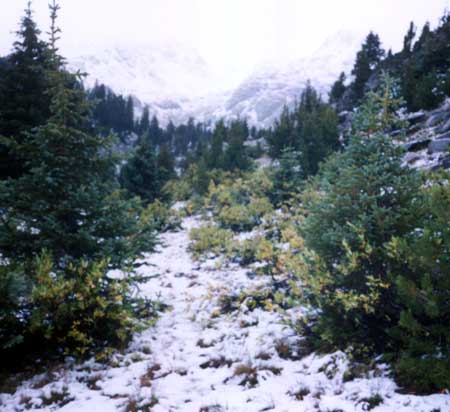 This is what the trail looked like covered with snow. With the snow
on the ground, it was harder to follow the trail. Fortunately we had
a good map and a handheld GPS to help us follow the trail.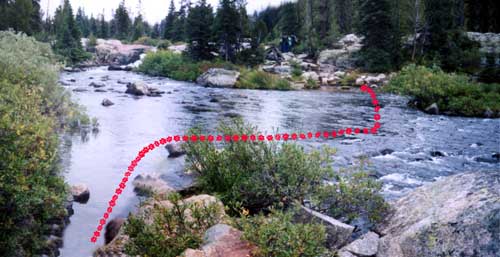 This was the dreaded crossing of Pole Creek. Fortunately, it was not as bad as
we had feared. It was knee deep, cold and swiftly moving. Just downstream to
the right, the stream opened up into a small pond-like area. The red dots show the
route of the crossing.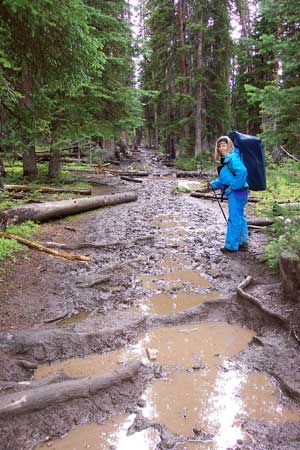 Due to the snow and rain from the previous
night, the trail out was much muddier and
messier than it was on the way in.