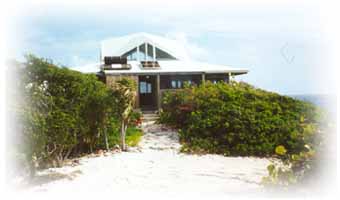 Arriving at Crow's Nest. Here we are at the front door. Upstairs you can see the large triangular windows of the master bedroom loft. From these windows, you can see the entire world ! (well at least the entire island of Staniel Cay) !

After you step in the front door, you enter the spacious airy living room shown above. The stairs to the left lead to the master bedroom loft. Just beyond the living room is a large screened in porch. From the front porch you can see Exuma Sound to the right and the island of Staniel Cay to the left. To the left of the living room is a spare bedroom (shown below left). We used it as a large walk in closet. To the right of the living room is the dining room (shown below right) and the kitchen (shown bottom right). In the dining room, Diane is working on a jig-saw puzzle.

Above is the master bedroom in the loft. From the comfort of your bed, you get a fantastic 360 degree panoramic view of the island and it's surrounding waters. The large windows open for a constant breeze or there is a ceiling fan above the bed. There are screens to keep out any bugs. Every morning and evening we were afforded a beautiful view of the sunrise (shown below left) and sunset (shown below right). All we had to do was prop ourselves up on our elbows for the view.

The view shown above is from the upstairs master bedroom.
It shows the view eastward over Exuma Sound.
The beach below is a beautiful sandy beach that was basically all ours when we stayed at Crow's Nest.