The next day we hiked the 4 miles into the end of the basin. We could have gone further back but decided to turn around and head back out. Titcomb Basin is a beautiful area. It's a narrow box canyon with a flat floor and two large, long lakes extending the length of the canyon. You are surrounded by high, steep, rocky mountain peaks on three sides. Halfway up the southern sidewall of the basin is a small hanging valley that hides Mistake Lake, totally out of sight of anyone down in the valley floor. The only way we knew it was there was from the map. We hiked up the valley side to check the lake out.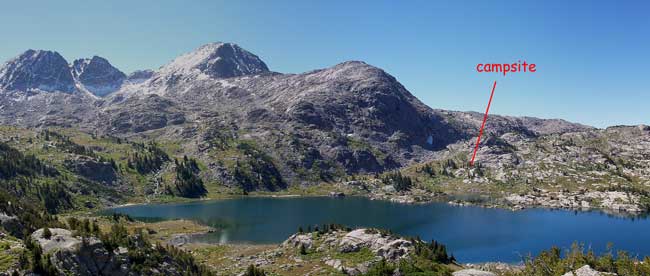 We're now dayhiking into the basin area. Looking back, this is our last clear view of Island Lake. With binoculars, we could just barely make out our campsite on the far shore.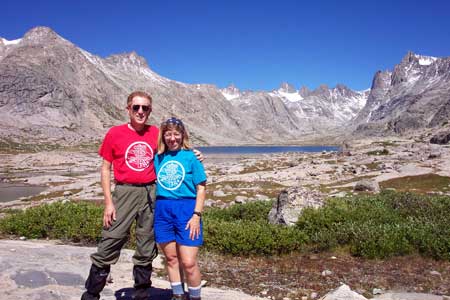 Here we are at the beginning of the Titcomb Basin area.

Here we are just a little further into the basin. The lakes you see are the Upper and Lower Titcomb Lakes. Freemont Peak is to the right, The Needles are to the left.

Here we are looking back out of the basin. We are part way up the eastern side wall. The Upper and Lower Titcomb Lakes are to the right and Mistake Lake is on the left.