The next day we packed in the remaining 5.5 miles past Seneca Lake to Island Lake. Seneca Lake was a large lake. We didn't see any suitable campsite areas around the lake, but then we weren't really looking either. Shortly after Seneca Lake we climbed a short rise and came to the junction with the Highline Trail that headed east over Lester Pass and Cook Lakes. We'll come back here in a few days and follow this trail to Cook Lake, but for now we continue on to Titcomb basin. About a half mile later we come to another junction where the Highline Trail beaks off and heads westward. Continuing on to the basin we climb our last rise just before Island Lake. From there, we get a great panoramic view of the lake and the mountains forming Titcomb Basin.
We were originally planning to camp in the Titcomb Basin. However, it would have been about another 2 miles and I was tired and looking to stop. We found a nice site on the hillside above the western shore of the lake where we had a great view of the lake and the mountains.
There were quite a few others also camped along the shoreline. Fortunately, most were able to find hollows, rocks or trees in which to hide their campsites.


A panoramic shot of Seneca Lake. We stopped here for lunch.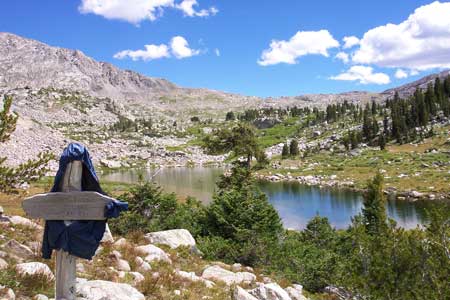 The trail junction with the Highline Trail which leads up over Lester Pass, which is the low spot in the ridge line in the far distance.

Our first view of Island Lake and the Titcomb Basin in the distance. We wandered off to the left to find a campsite on the hillside overlooking the lake.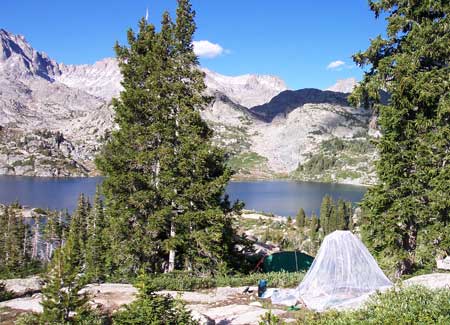 Here's our campsite at Island Lake. We set up our white "mosquito tent"
so that we could sit and eat in peace without interruptions from pesky bugs.