Today was a touristy day. We went over to Grand Teton N.P. and took the shuttle boat across Jenny Lake over to Inspiration Point. We followed the masses up the hill to the top of Inspiration Point for a lovely view of Jenny Lake, the Snake River Valley. At this point we'd had enough of the tourist crowds, so we followed the Cascade Canyon Trail westward up Cascade Canyon. The further we went, the less tourists there were. After a while we stopped for lunch, then turned around and made our way back to the shuttle boat dock.
From the Jenny Lake parking lot we drove south to Teton Village and the Jackson Hole Ski Resort. Dave had gone skiing there one winter about 20 some odd years ago and wanted to check it out again. Plus he wanted to take the aerial tram to the top of the mountain, something he hadn't done done last time. We managed to catch the second to last tram ride to the top of the mountain. The view out over the valley was lots better than at Inspiration Point. But then we were now at 10,450 feet (instead of about 7,000). We had about 5 to 10 minutes to look around before the tram headed back down the mountain. We didn't want to have to wait another hour or so till the last tram ride of the day. We still had a long distance to drive that night to our next hotel.
The rest of the evening was spent enjoying supper at Nora's Fish Creek Restaurant and then a long drive in the dark down to Afton, WY. There we stayed at a very nice cabin called "The Old Mill Cabins" hidden up a side road off the main highway. It was late at night when we arrived so I had to wait till the next day to take any pictures.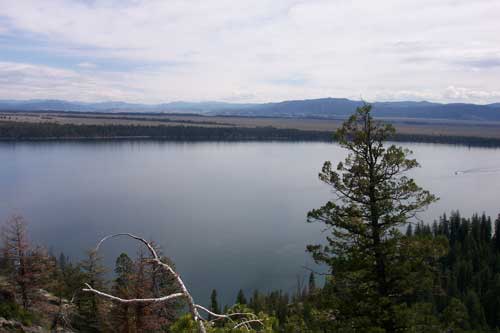 Jenny Lake from Inspiration Point at Grand Teton National Park.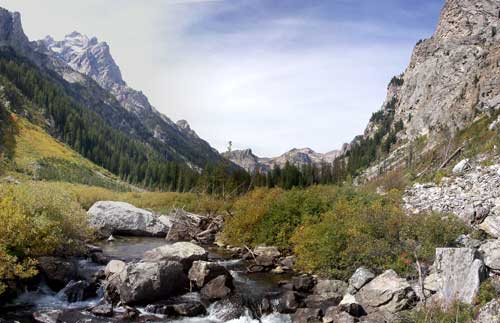 We hike up Canyon Creek behind Inspiration Point.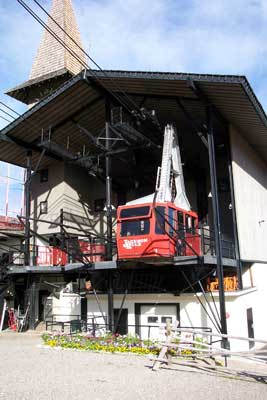 The tram at Jackson Hole ski resort. We take the second to last ride to the top.


This is the top of the mountain at Jackson Hole ski resort. We only had a few minutes
before the tram headed back down the mountain.