From the Lakeside Lodge it was a short drive to the end of Freemont Lake and the Eklkhart Park Trailhead. This was the main trailhead for Titcomb Basin. The trail was like a highway, with many fellow backpackers and horse trains. The horse trains were particularly annoying because the hooves really tore up the trail and the horses left large piles of horse s**t to avoid. The horse trains also provided an easy way for "tourist backpackers" to get into the basin area.
It's a total of 12.9 miles to get to Island Lake at the mouth of the basin. That's a little far for us to do in one day so we stopped about halfway (7.4 miles) and camped at Hobb Lake. We found a nice site with a view across the lake with the mountains in the distance.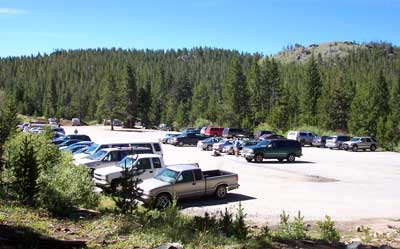 There's plenty of parking at the Elkhart Park trailhead. This is a very popular trail since it's the closest entry point into the popular Titcomb Basin area.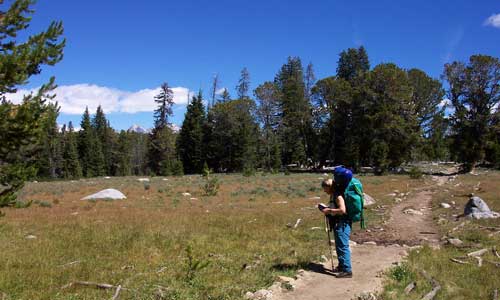 Here's Diane along the Pole Creek Trail, on our way to Titcomb Basin.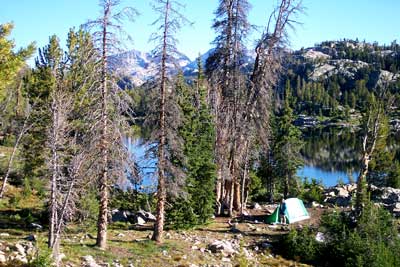 Here's our campsite on Hobb Lake, about 1/2 the way to Titcomb Basin. Across the lake in the far distance are the mountains that form the basin area.