Today's hike started at Worthen Meadows Reservoir. After crossing some open meadows we started our climb up to a georgeous un-named mountain pass. From the pass we had a great view of the Stough Creek Basin area and of Wind River Peak (elev 13,192 ft) in the far distance. We ate lunch in the pass amongst some conifer trees for wind protection.
Then Diane, Rick, and I climbed up to the top of one of theun-named talus peaks next to the pass. It was a little difficult climbing up the barren rocky slope but the view from the top of the peak (elev. 10,695 ft) was, in one word, fabulous! We had a stupendous 360 degree view of the lower end of the Wind River Range to the west and the flat plains of Wyoming out to the east. After such a rewarding view, it was difficult to leave, but the others back in the pass had already started back downhill and we wanted to catch up with them.
This was by far, our favorite dayhike of the trip.
The trail starts with a boardwalk over a boggy meadow.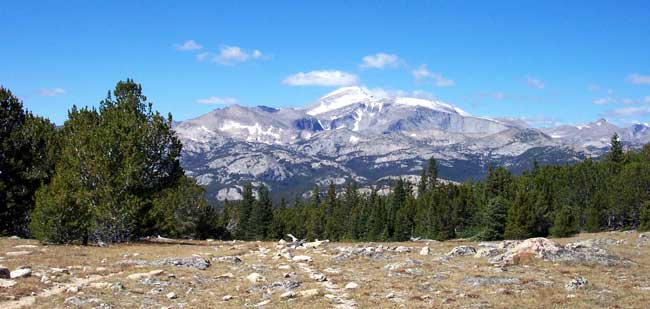 This is your first view of Wind River Peak (elev. 13,192 ft) from the un-named pass.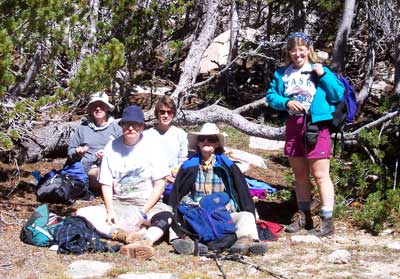 It was very windy in the pass so we ducked into the cover of
some some gnarly pine trees so we could eat our lunch.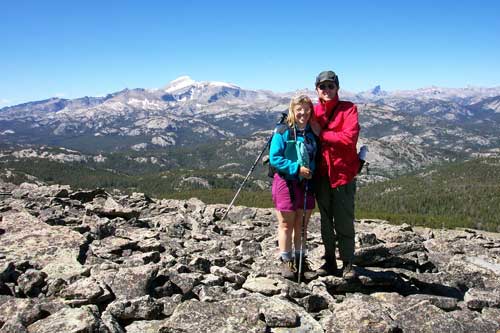 Here we are on the peak of a talus slope beside the pass. From here we got a
great 360 degree view! Behind us is the Stough Basin area and snow capped
Wind River Peak on the horizon.