Today's hike started at the Green River Lake trailhead. We quickly crossed over the Green River and hiked southward following the eastern shoreline of Green River Lake. It was an easy level walk to the end of the lake where we turned eastward and followed Clear Creek thru a wide beautiful meadow area. After a short distance we crossed over Clear Creek, turned south, crossed a lovely meadow and picked up the Slide Lake Trail. This trail followed Slide Creek steeply up a forested slope. The ascent was eased with switchbacks. Along the way we came to Fish Bowl Spring. I'd never seen anything like it before. It was a spring about 20 feet across and about 5 feet deep. You could see the water forcibly bubbling up from the bottom of the spring. From the spring, the water formed a sizable stream that flowed into Slide Creek. Several large trout made their home in the spring.
A short distance further and we came to beautiful Slide Creek Lake, surrounded by Flat Top Mt. To the north and Lost Eagle Peak to the southeast. We enjoyed a leisurely lunch on the lake's sandy beach. We were tempted to take a dip in the clear waters, but the cold water temperature limited us to just wading in up to our knees. When we had had enough of the tranquil peace and quiet of the lake, we turned around and returned back to the trailhead the same way we came.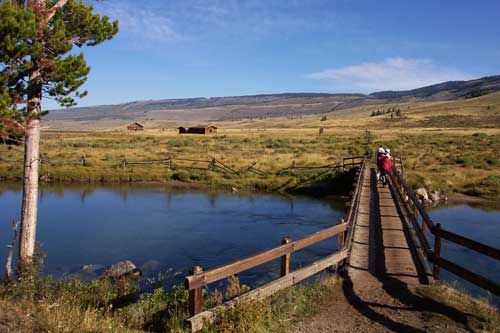 Here we are starting out early in the morning crossing the Green River.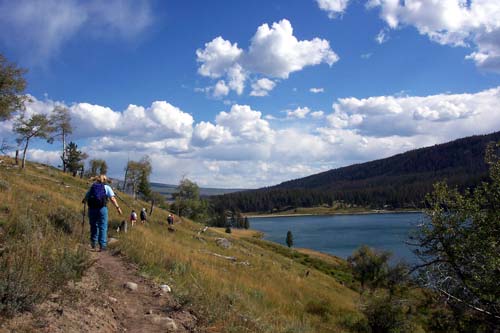 Here we are continuing along the shoreline of the Green River Lake.

There's a wide boggy meadow at the end of the lake. We saw a mother moose
and her calf feeding down amongst the bushes.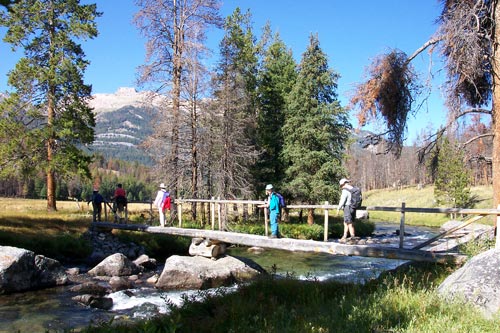 We eventually have to cross Clear Creek on a nice log foot bridge.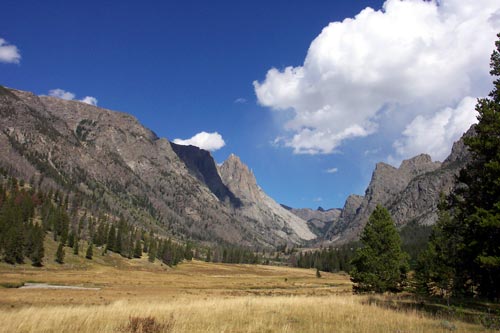 Crossing the meadow to access the Slide Lake Trail.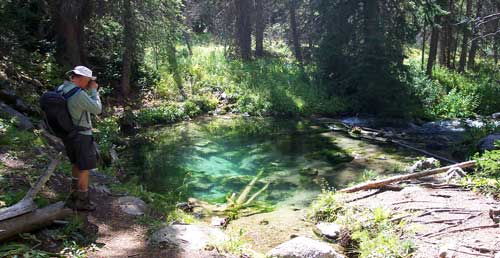 Along the way to Slide Lake we passed the "fish aquarium",
a natural spring that was filled with large trout.

The beautiful sandy beach at Slide Lake. The water was very cold.