Bob and Michelle (and Dave) in Seattle
On Sunday we had nice weather all day. Well, nice weather for Seattle that is. Even though it was overcast,
we had NO rain! Bob took me to Discovery Park. It's a real nice city park along the shore of Puget Sound.
There's open fields, wooded forests, and of course water. It makes for a nice area for bird watching.
There were a lot of people out that day walking and jogging. The area used to be a military base called
Fort Lawton. Here's Bob along one of the trails. In the background is Puget Sound.

Bob leads me out to an overlook where there's a great view of the sound. The far shoreline is Bainbridge Island

Below, we're at another overlook to the north. The entrance to the ship channel is right behind Bob
and leads off to the right and into Lake Union.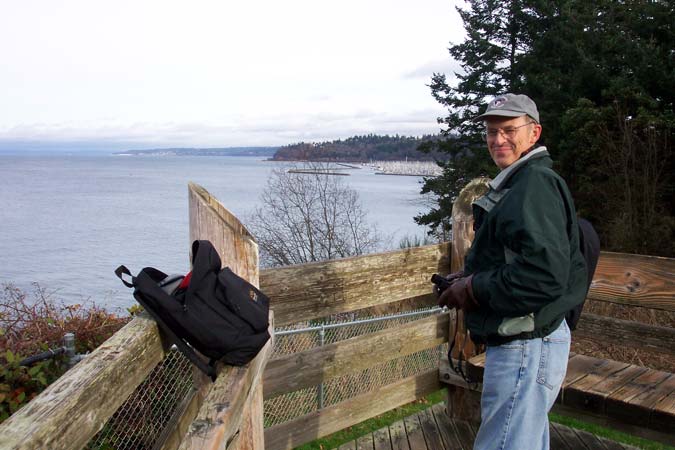 Here we are at the West Point Lighthouse. It was VERY windy and cold. Bob turned back to the car at this point.
Dave continued out to the lighthouse for the view.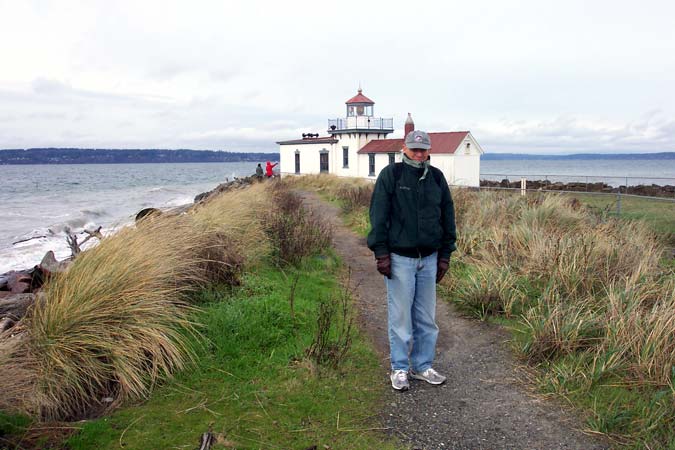 Tuesday was a light day at the clinic. All we had was an early morning blood draw and then we had the rest of the day off.
We drove north up Interstate 5 to Everett. There, the Boeing Company has a large plant where they build their 747, 767,
and 777 commercial airliners. They give tours. With both of us being engineering "geeks", we HAD to go. They showed
a great movie of them assembling a 777 and then they bused us over to the plant where they took us to an observation deck
above the assembly floor. Below us was a fully assembled 777. They were finishing off the interior. In the background were
several nose assemblies having the cockpits installed. Unfortunately, no cameras were allowed on the tour. :-(
I'm afraid you'll have to settle for a shot of the inside of the museum and a distant shot of the factory from the museum roof.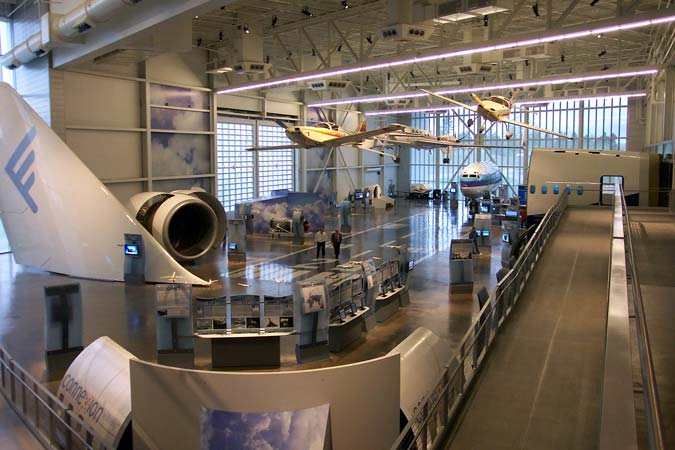 This is a partial shot of the Boeing factory from the museum roof. The main factory is the large building on the left with
the large blue doors. Each blue door is the size of a football field. The smaller buildings on the right are the "painting booths"
where they paint the airplanes. They apply approximately 600 lbs of paint. In between the two buildings is the main highway
leading from I-5 westward to the sound. They tow the planes across a bridge over the highway.

Found this photo shown below on the internet and shamelessly plagarized it from some commercial tour operator website.
It gives you an idea of what we saw in the plant.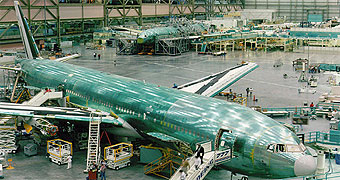 Regards,
Dave